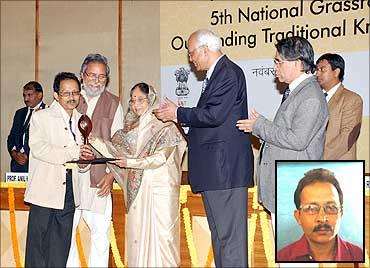 The US-based National Aeronautics and Space Administration (NASA) has shortlisted Assamese innovator Uddhab Bharali for its prestigious NASA Technology Award.
Bharali has also been nominated for the World Technology Award 2012 given by World Technology Network.Based in North Lakhimpur town in north-eastern Assam, Bharali has 39 universal patents to his name. But the 45-year-old innovator is best known for his mini pomegranate de-seeder.
"I am among the 26 innovators from across the globe to have qualified for the NASA award," Bharali said from his hometown.
"I have qualified for developing the mini pomegranate de-seeder, which has become very popular in the United States."
The machine, exported to the US and Turkey, separates the outer cover and thin inner membrane of a pomegranate without damaging the seeds.
It has a capacity of de-seeding 50-55 kg of pomegranates per hour.
Bharali said NASA briefed him about the system involved in deciding the winners.
"Out of the 26 who have qualified, 10 would be given the award through online voting. Getting requisite votes is secondary; qualifying for the award is recognition as an international innovator," he added.
The nomination for the World Technology Award, on the other hand, is for the mini CTC tea plant that Bharali had designed.
Small enough to be set up in a 14ft by 20ft space, his tea plant follows all established procedures of massive tea producing machines and can produce up to 100kg of tea per day with a power intake of only 2KW.
Bharali began innovating in 1988, and his first device was a polythene filmmaking unit. He has since innovated 98 engineering devices.
Associated with IIT Guwahati's RUTAG (rural technology action group), he has developed a cocoon opener and a cotton lap-cutting device for use by common people.
Among his other innovations are the areca nut peeler that is popular in Indonesia and Ethiopia, cassava peeler being bought in Kenya, a garlic peeling machine, tobacco leaf cutter, paddy thresher, cane stripping machine, brass utensil polishing machine, jatropha de-seeder, mechanised weeding machine, passion fruit juice extractor, trench digger and chopper for cattle and fisheries feed.
Then there are the stevia pulveriser, multipurpose herbal dyer that retains the colours of ingredients such as tea, king chilli, turmeric or ginger.
A key resource scholar for various schools and colleges besides Indian Institute of Entrepreneurship, Bharali has received several awards such as Shristi Samman by National Innovation Foundation (2007), President's award for innovation (2009) and Meritorious Invention Award (2010) from the Department of Science and Technology.
After completing his schooling from Lakhimpur, Bharali's interest in machinery-making had prompted him to enrol at Jorhat Engineering College. Unfortunately, however, he was forced to abandon the course after three months due to the strife in Assam.
His desire to do the same course via correspondence at the Institute of Engineers - India Madras chapter, in Chennai, could not be fulfilled due to the sudden death of his father, forcing him to work and take care of his family.
Despite these setbacks, today Bharali is a resource scholar for the Indian Institute of Entrepreneurship and a technical consultant to the Rural Technology Action Group (RUTAG) at the Indian Institute of Technology (IIT)-Guwahati.
For the work on many of his innovations, Bharali received support from the National Innovation Foundation (NIF) under the Micro Venture Innovation Fund (MVIF) scheme and the Technopreneur Promotion Programme (TePP) of the Department of Scientific & Industrial Research (DSIR).
His pomegranate-deseeding machine was mentioned in the prestigious MIT Journal.
As part of his efforts to drive more innovation and create a pool of skilled technicians, Bharali conducts a training programme for youngsters who are selected based on their aptitude for technical skills, rather than academic qualifications. Each batch has eight students and the three-month training imparts skills in various machine technologies. The students are provided free food and lodging, and a monthly stipend of Rs 300 for the training period.
With so many innovations to his credit, Bharali however considers his work on designing a mechanised toilet for the handicapped to be really special.
He also dreams of building an unconventional orphanage in his hometown where children will receive technical training to make them employable. Once they start earning a livelihood, they can focus on acquiring academic knowledge in history, mathematics, sociology and other important areas, he says. Another dream is to set up an industrial village with a multispeciality skill development centre for the manufacture of intermediary products.
Most of all, he wants to equip senior citizens with technical skills to help them become self-reliant in old age.