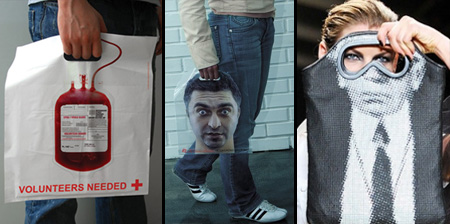 Shopping bags are now an important piece of marketing for most retail companies and brands.

Clever uses of shopping bags in advertising campaigns by various companies.To attract customers and promote their products, some of the companies have come up with creative shopping bag designs.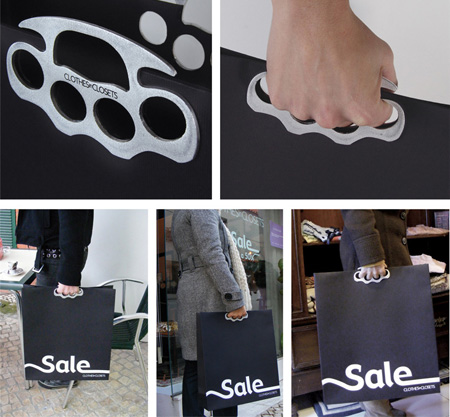 Guerrilla marketing
was originally a marketing strategy in which low-cost, unconventional means (including the use of graffiti, sticker bombing, flyer posting, etc.) were used in a (generally) localized fashion to draw attention to an idea, product, or service. Today, guerrilla marketing may also include promotion through a network of individuals, groups, or organizations working to popularize a product or idea by use of such strategies as flash mobs, viral marketing campaigns, or internet marketing.
Modern approaches to guerrilla marketing often utilize mobile-digital technologies. This enables advertisers to engage consumers emotionally, and frequently enough, to hopefully cause a campaign to turn viral, thereby realizing maximum returns on a relatively low initial investment.
Ultimately, however, guerrilla marketers must "deliver the goods." In
The Guerrilla Marketing Handbook
, the authors write: "...in order to sell a product or a service, a company must establish a relationship with the customer. It must build trust and support the customer's needs, and it must provide a product that delivers the promised benefits..."
The web is rife with examples of guerrilla marketing, to the extent that many of us don't notice its presence - until a particularly successful campaign arises. The desire for instant gratification of internet users provides an avenue for guerrilla marketing by allowing businesses to combine wait marketing with guerrilla tactics. Simple examples consist of using 'loading' pages or image alt texts to display an entertaining or informative message to users waiting to access the content they were trying to get to. As users dislike waiting with no occupation on the web, it is essential, and easy, to capture their attention this way. Other website methods include interesting web features such as engaging landing pages.
Many online marketing strategies also use social media such as Facebook and LinkedIn to begin campaigns, shareable features and event host events. Other companies run competitions or discounts based on encouraging users to share or create content related to their product.
Viral videos are an incredibly popular form of guerrilla marketing in which companies film entertaining or surprising videos that internet users are likely to share and enjoy, that subtly advertise their service or product.