After his MBA, Siddharth landed the role of assistant director for Mani Ratnam's Kannathil Muthamittal.
 Screenplay writer Sujatha Rangarajan recommended his name to Shankar for casting in his then upcoming movie Boys.
The movie was a moderate success in Tamil but the dubbed version in Telugu gave Siddharth an opening in the Telugu industry.
Siddharth worked on Mani Ratnam`s Aayutha Ezhuthu in 2004 which was dubbed from Tamil into Telugu (Yuva) and he worked
with Prabhu Deva in the film Nuvvostanante Nenoddantana that gave his first Filmfare Best Actor award.
In 2005, Siddharth also ventured into the writing forum as well as the singing forum as he wrote the screenplay for his
Telugu film Chukkallo Chandrudu directed by Siva Kumar and sang as a playback singer.
Siddharth debuted in Bollywood as part of the critically acclaimed Rang De Basanti which starred Aamir Khan as a lead.
 Siddharth received the Star Screen Debut Award for his role as Karan Singhania in the movie. Siddharth's next
Telugu film Bommarillu received critical acclaim as well as box office success. He worked with director Vishal Bhardwaj
and Oscar winning cinematographer Guillermo Navarro on a short film titled "Blood Brothers"
which screened at the Toronto International Film Festival.
After the above average grossing Aata in 2007, Siddharth took a sabbatical and did not have a release for 20 months.
In 2009, Konchem Ishtam Konchem Kashtam opposite Tamanna received a good response from the critics and the audiences.
 Siddharth played the lead role in debutant director Anand Ranga's Oy!,
which achieved box office success despite mixed reviews.
His second Bollywood movie Striker portrayed the life of a carrom player and became the first Bollywood film to release
on YouTube and in theatres on the same day.
He has just started work on Prakash Rao's fantasy epic Hyderabad, produced by veteran K. Raghavendra Rao.
Shruti Haasan has been cast opposite Siddharth. His next movie is the Telugu film Bava.
He has also acted for Idea Cellular mobile advertisements.
Siddharth, the crazy lover boy in Tollywood, confined himself to Telugu movies even he has prior experience as assistant director by the landmark director Manirathnam. There is a huge market for the actor here and in Bollywood owing to his performance in the critically acclaimed 'Rang De Basanti'.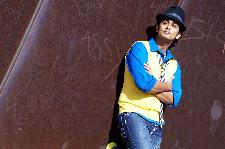 His first role was in Boys as "Munna", directed by S. Shankar. His mentor Mani Ratnam then offered him a role in the Tamil film Aayitha Ezhuthu. His first solo lead role was the role as Santosh in the Telugu film Nuvvostanante Nenoddantana (2005) opposite Trisha Krishnan, which was commercially successful. In 2006, he was chosen to play "Karan", one of the protagonists in the Bollywood movie Rang De Basanti , which released in January 2006. This film went on to achieve cult status and was also declared a blockbuster. His recent Telugu film, Bommarillu, has been declared a super hit, and is projected to cross the Rs.25 crore mark.