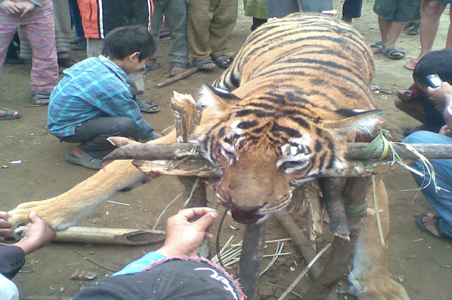 tiger eaten by villagers
A full grown Royal Bengal Tiger was hunted down by villagers of Numuk in Arunachal Pradesh's West Siang district.
Villagers gathered around the tiger after the kill. The meat was then consumed by the people but even more disturbing is the information of a possible wild life trade racket flourishing in that area.
The skin of the tiger was allegedly sold to a certain businessman from Assam for 1.5 lakh rupees.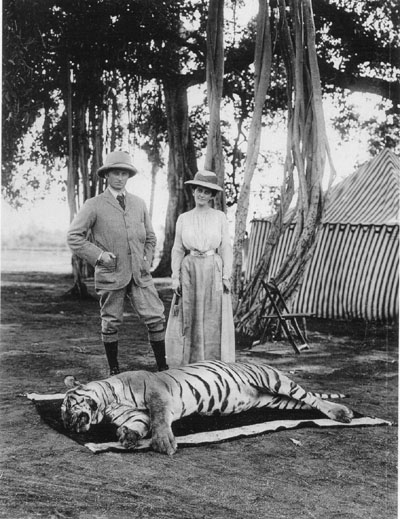 "They must have gone for some small animal hunt and came across this tiger and killed it. It is about 30 km from Along. It was a heavy animal, even four persons could not carry it properly, you may have seen the picture. Gun ammunition was used to shoot. The skin was sold to some trader from Guwahati at Silapathar. Wildlife authorities talk about penalties but wildlife crime is going on. This is the season of deer hunting and deer is being hunted regularly," said Tapak Kato, an eyewitness from Namuk.
In the last one year this is the third incident of tiger hunting in the area but the first time that there was photographic evidence.
The last Indochinese tiger in China was killed and eaten by a man, who has been sentenced to 12 years' jail.
Kang Wannian, a villager from Mengla, Yunnan Province, came across the tiger in February while gathering freshwater clams in a nature reserve near China''s border with Laos.
Wannian has claimed that he killed the tiger after dark in self-defense and did not know it was an endangered Indochinese tiger, The Telegraph reported.
Only around 1,300 to 1,800 Indochinese tigers are estimated to be living in the wild, and the tiger killed by Kang was thought to be the only Indochinese tiger ever seen in China.
It was reported that Kang''s father had his face bitten by a wild bear in 1979 when Kang was seven, and his brother was trampled to death by a wild elephant in 1995.
Four villagers who helped Kang dismember the tiger and ate its meat were also sentenced from three to four years for "covering up and concealing criminal gains".