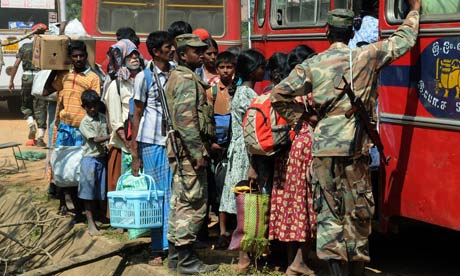 Some 300,000 war refugees were forced into the camps after fleeing the final months of the government's decades-long war with the separatist Tamil Tiger rebels, which ended in May.
The ethnic-minority Tamils are being held against their will. More than half were released in recent months amid pressure from rights groups and foreign governments. Authorities say nearly 136,000 people remain detained in the camps, which are guarded by soldiers and strung with barbed wire.
Basil Rajapakse, a senior adviser to his brother, President Mahinda Rajapakse, said yesterday the refugees will be free to return to their villages after December 1, and the camps will be completely closed by January 31.
The announcement came two days after the UN humanitarian chief, John Holmes, pressed Sri Lanka to allow the war refugees to leave.
Sri Lanka pledged in September to the UN that all civilians would be sent home by the end of January.
Rights groups say the detention is an illegal form of collective punishment for the ethnic group. Access to the camps is heavily restricted.
The government has maintained that Tamils must be screened for rebel ties and detainees' villages de-mined before the camps can be closed.
Yesterday, Rajapakse said the military was given the green light to release the detainees as no security threats remain. Detainees can settle in areas cleared of mines, he said.
Government troops routed the Tamil Tigers in May, ending their 25-year fight for an independent homeland for the country's minority Tamils. An estimated 80,000 to 100,000 people were killed in the violence.