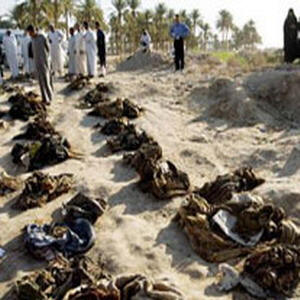 More than 85,000 Iraqis died violently from 2004 to 2008, according to figures released by the government on Wednesday, the first such
official data since the 2003 US-led invasion.
The report, published by the human rights ministry, also said nearly 150,000 people had been wounded in that period, during part of which communal violence engulfed the country and Iraq threatened to fall into civil war.
"Outlawed groups, through terrorist attacks like explosions, assassinations, kidnappings and forced displacements, are responsible for these terrible figures, which represent a big challenge for the rule of law and for the people of Iraq," the report said.
A total of 85,694 people died as a result of violence, while 147,195 people were wounded, the report said. Included in the death toll were 15,000 unidentified bodies.