Enthiran Climax Scene Eco-Friendly Set Cost Five Crore
Superstar RajiniKanth's Next " ROBO"
It has just been a couple of days since official announcement on superstar's next venture is out, his fans all over the world have already donned their creative thinking caps. As a result, the Internet is flooded with stunningly conceptualized imaginary posters of Rajini's next venture Robot,created by his fans. Interestingly, the posters also have the list of cast and crew they think would suit the movie better. Hmm...perhaps this is what you call lending a helping hand to the director..
Robot posters released. click here for samples.
PS : These are imaginary posters designed by the fans and sent to us. These are not official poster of the movie nor the official cast & crew list.
Shankar
says in an interview to an upcountry magazine, "For a regional language like Tamil or Telugu,
Shivaji
is really a grandeur film. But Robot targets worldwide market. The film is differs in every aspect from
Shivaji
. The budget, making style and marketing strategy, are totally different and I'm sure the film will reach a new high not only in Superstar
Rajini's
career, but in the history of Indian Cinema."
Chennai: After the mega-success of Sivaji, The Boss, superstar Rajinikanth is now all set for his next film tentatively titled, Robo.
Industry sources have confirmed to CNN-IBN that director Sankar and Rajinikanth have finalised their deal for Robo.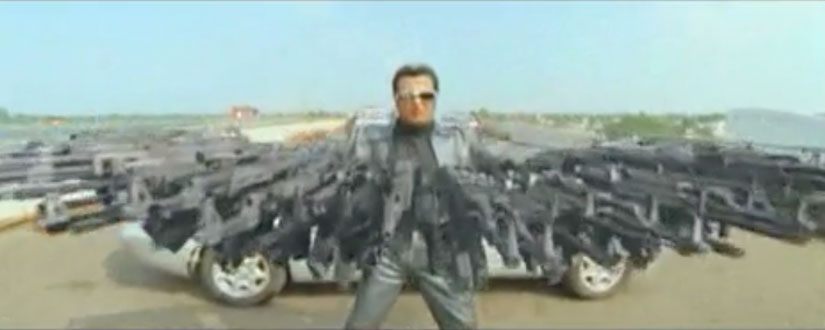 The movie is expected to take the southern superstar beyond the Vindhyas for it will be made in Hindi, Tamil and Telugu simultaneously.
Sivaji too is presently being dubbed in Hindi and sources say the success of Sivaji in the north Indian market has inspired plans for a simultaneous Hindi version for Robo.
Sources also say that Robo will be bigger and more expensive than Sivaji, which was made at a cost of close to Rs 80 crore and earned nearly Rs 100 crore.
For the moment though, the Tamil film world is all geared up for a grand celebration of Sivaji's success on January 11.
Sankar, who directed Sivaji, had initially approached Shah Rukh Khan, but the deal fell through.