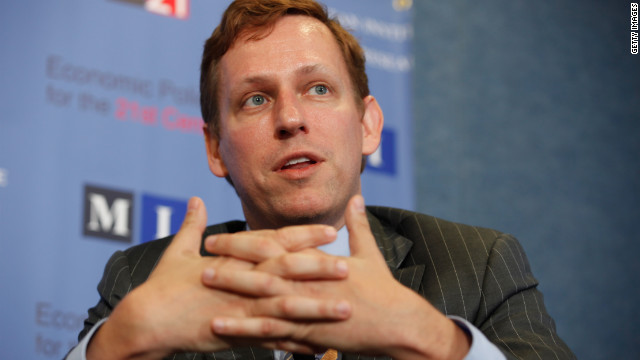 Venture capitalist Peter Thiel is planning to reach 120 in age and is on a special diet to make it happen.
The 47-year-old investor, who co-founded PayPal and made an early bet on Facebook Inc, said he's taking human growth hormone every day in a wide-ranging interview with Bloomberg Television's Emily Chang.
"It helps maintain muscle mass, so you're much less likely to get bone injuries, arthritis," Thiel said in an interview in August. "There's always a worry that it increases your cancer risk but -- I'm hopeful that we'll get cancer cured in the next decade." Thiel said he also follows a Paleo diet, doesn't eat sugar, drinks red wine and runs regularly.
Thiel's Founders Fund is investing in a number of biotechnology companies to extend human lifespans, including Stem CentRx Inc., which uses stem cell technology for cancer therapy and Modern Meadow Inc., which is aiming to grow leather and meat in labs. Thiel said, however, that "it's not yet clear whether people will eat it."
In the interview, taped before the publication of Thiel's book, "Zero to One: Notes on Startups, or How to Build the Future," he offers his thoughts on the state of the technology industry today. When it comes to business longevity, Thiel predicted that Google Inc. will outlast Apple Inc., Amazon.com Inc. and even Facebook Inc., where he serves on the board.
-------
who is peter?
Peter Andreas Thiel (born October 11, 1967) is an American entrepreneur, venture capitalist, and hedge fund manager. Thiel cofounded PayPal with Max Levchin and Elon Musk and served as its CEO. He also co-founded Palantir, of which he is chairman. He serves as president of Clarium Capital, a global macro hedge fund with $700 million in assets under management; a managing partner in Founders Fund, a venture capital fund with $2 billion in assets under management; co-founder and investment committee chair of Mithril Capital Management; and co-founder and chairman of Valar Ventures. He was the first outside investor in Facebook, the popular social-networking site, with a 10.2% stake acquired in 2004 for $500,000, and sits on the company's board of directors. Thiel was ranked #293 on the Forbes 400 in 2011, with a net worth of $1.5 billion as of March 2012. He was ranked #4 on the Forbes Midas List of 2014 at $2.2 billion. Thiel lives in San Francisco, California.