The creators of arch rivals Adidas and Puma were brothers
.
The unbelievable story of the two brothers who founded a successful business together and wound up as bitter enemies.
In 1924, brothers Rudolph "Rudi" Dassler and Adolf "Adi" Dassler were living in the small Bavarian town of Germany. Their father worked in a shoe factory, their mother worked a laundress, and the two brothers had just returned from World War One. It was within these humble beginnings, that the younger brother Adi started making shoes in the backroom of his mother's wash house. Adi was soon joined by Rudi and the Dassler Brothers Shoe Factory was born.
Picture
:Adolf (left) and Rudolph (right) Dassler

Success story :

The Dassler Brothers' hand-sewn shoes were unlike any other athletic shoe on the market, and they quickly became an integral part of the European sports world. Just four years after the company was started, their shoes could be seen on the feet of athletes in Amsterdam during the 1928 Olympics, furthering the Dassler's success. But their big break came in 1936 when the two brothers drove from Bavaria to Berlin to give Jesse Owens a pair of their shoes. That year Owens won four gold medals while wearing the Dassler's shoes and the company was propelled into the national spotlight.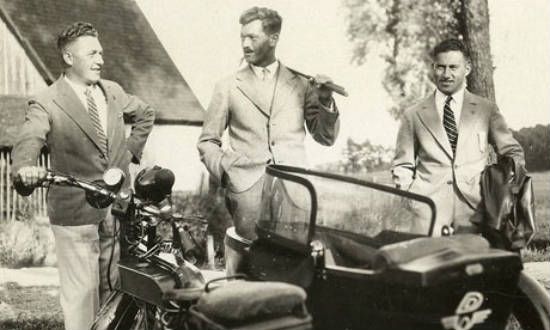 Sibling Rivalry:

They both joined the Nazi party when Hitler rose to power. Rudi was drafted to fight in WWII and was captured by Allied forces.Rudi was convinced that his brother, Adi, had ratted him out.

Due to irreconcilable differences between the two brothers, the Dassler Brothers Shoe Factory fell apart in 1948. Adi went on to start his own line of shoes, "Adidas" (based on his name, Adi Dassler). Rudi started his own line of shoes, "Puma", named after the German word for "Panther".As the entire town got caught up in the Dassler family feud, the rivalry reached ridiculous proportions. There were local businesses that served only Adidas or only Puma people, dating or marrying across company lines was forbidden, and Herzogenaurach became known as "the town of bent necks" since people first looked at which company's shoes you were wearing before deciding to talk to you.

It wasn't until 2009 when employees of both companies symbolized the end of six decades of feuding by playing a friendly soccer match. By then, the Dassler brothers had both died, within four years of each other. Even in death, the animosity continued as the brothers were buried at opposite ends of the same cemetery, as far away from each other as possible.