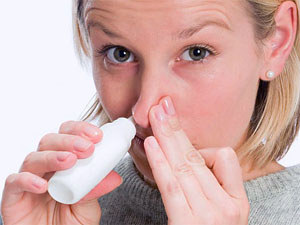 A pharmaceutical company based in Canada is developing a world-first Viagra-style drug for women. Monash University researchers are undertaking clinical trials for the revolutionary treatment to boost female sexual arousal, appetite and satisfaction. The product, known as Tefina, contains testosterone and is sprayed in the nose in the hours before any sexual activity, News.com.au reported. Experts said the treatment could help one in three women around the world who did not get full satisfaction and fundamentally transform relationships.
Proffesor Susan Davis, director of the women's health research programme at Monash University, said the treatment would act like "Viagra for women" and was a "world-first breakthrough". "Rather than a long-term, therapy-based approach, this drug can be taken just when a woman anticipates sexual activity," the website quoted Davis as saying. "This could be a breakthrough study for women who currently are frustrated by the lack of any treatment options," she added. Davis said the drug would be most help for patients who say sex "has become a chore", particularly those in their 30s or 40s who have partners still keen to be intimate.
About Tefina™
Trimel's product candidate Tefina™ is a bioadhesive 'no touch' intranasal low-dose gel formulation of testosterone. Tefina™ is being developed to offer women with anorgasmia, a "use as required" treatment option. Tefina™ is expected to present an attractive safety profile, with virtually no androgen-related side effects such as acne, facial and body hair growth or deepening of the voice. Moreover, there is no expected risk of skin-to-skin transfer of testosterone to third parties with the multi-dose dispenser.
About Female Anorgasmia
Anorgasmia is defined as the persistent or recurrent delay in, or absence of, orgasm following normal sexual excitement phase that causes marked personal distress or interpersonal difficulties. The etiology of anorgasmia is often characterized by whether the dysfunction has been lifelong (primary) or acquired (secondary). This condition affects 1 in 5 pre and post menopausal women worldwide. Currently there are no approved treatments for Anorgasmia and therefore represents an unmet need for women suffering distress from this condition.
About Trimel
Trimel Pharmaceuticals Corporation is a unique specialty pharmaceutical company actively developing medications for male hypogonadism, female sexual dysfunction, and various respiratory disorders. Trimel is developing multiple product opportunities, including CompleoTRT™, a bio-adhesive intranasal Testosterone gel currently in Phase III clinical testing at more than 30 sites across America. CompleoTRT™ is for the treatment of male hypogonadism, a condition commonly referred to as "Low T". For more information, please visit
www.trimelpharmaceuticals.com
.