Microsoft has dragged its feet a bit too long in the tablet market - in almost an exact repeat of the smartphone market.
The iPhone revolutionised the smartphone market in 2007, and then the iPad kickstarted the tablet craze in 2010.
When it came to smartphones in 2006, Microsoft were the entrenched market-leader.
The Windows Mobile 6.5 operating system - which was outstandingly ugly and built for a stylus, but very flexible software-wise - had more than 90 per cent of the smartphone market just seven years ago.
While Microsoft did not have a decent tablet to market, they had kept trying to at least create the market, but kept missing the key features people wanted: portability, usability and style.
But Microsoft could never get deliver anything beyond clunky interfaces or heavy, style-less hardware in either market, and so they limited their potential to niche appeal.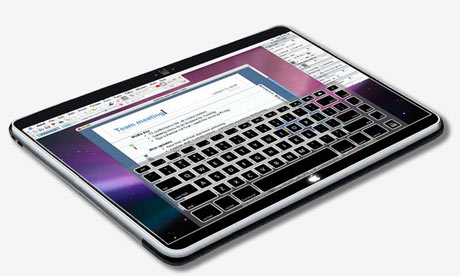 With Apple breaking new ground, this should have given Microsoft a clear goal to step in and join an established market.
And this would have been fine, if it was not for the Rise of Google - or more importantly, Android.
Once Apple paved the way, Google swooped in with their open-sourced, flexible and well-received operating system.
Hardware manufacturers, locked out of Apple's closed world, could adapt Android with almost no cost and no restrictions, and quickly a swarm of smartphones, and then tablets, swamped the market - some great, some good, and others terrible.
The sad thing for Microsoft is that this used to be them - they could license their software and different vendors, such as Dell, or HP, could build computers or smartphones.
But Google has all but cleared up this market, and Microsoft being late to market could be be deadly to the giant.
As soon as the iPhone was released, Windows Mobile was dead, but it took Microsoft another few years to get Windows Phone 7 out of the gates.
Windows Phone 7, despite a warm reception from critics and whole-hearted support from Nokia, still languishes at the bottom of the market, unable to gain mass-traction. It is still behind the long-dead Windows Mobile for market-share, despite all of Microsoft's advertising pushes.
This may change over the next few years, but it will be hard to break into either Apple's hardcore fanbase, or Android's million activations worldwide a day.
The Surface may not have the same hurdles. Business professionals may find this a suitable netbook or laptop replacement. Those who do not find Apple or Google's offerings good for productivity may swarm to Microsoft.
And as Microsoft unifies the experience within all its markets and builds its own eco-system, containing Windows 8 on the PC, Windows Phone 8, and the Metro-themed entertainment of the Xbox 360, they may win back a lost generation of people who like Microsoft's technical expertise.