The earliest rock influences arrived in Manipur via Thailand and the rest of southeast Asia over the border into India from Myanmar, known as Burma before 1989. "Back in the early 1980s, the gateway to the world lay to the east," remembers Vivek Konsam, who runs Riverboat, an event-management company in Imphal. "Second-hand copies of The Rolling Stone magazine, a few tapes of boot-legged concert videos and pirated audio cassettes made their way in through Myanmar," he says. Youngsters, often unemployed and idle, easily related to the hard-hitting lyrics and ear-splitting sounds.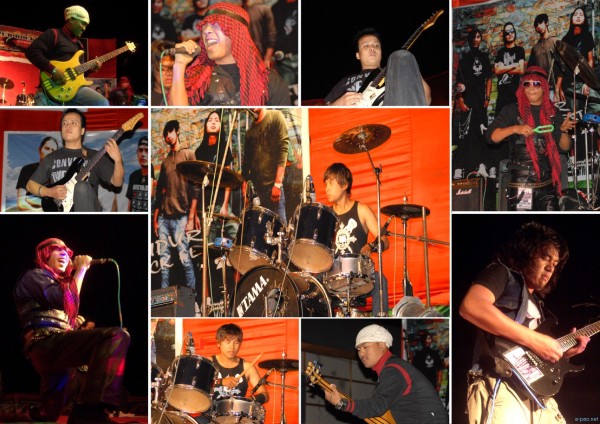 "It struck an instant chord with them and that got passed on to the next generation. Music is in our blood now," says Konsam, who has converted an outhouse of his bungalow into a smart session space available to rent. Konsam has been organizing rock festivals in Imphal and has seen their popularity grow with each edition. "When we started out a couple of years ago, there were just two or three local bands. Now that number has swelled to about 20. Attendance at these concerts has also been growing to several hundred," he says. But it is not easy in a city like Imphal, which closes down by 7:00 p.m. every evening and has just a handful of cinemas showing old Manipuri films due to threats by separatist rebels to attack screenings of Bollywood movies.
Alvina Gonson, a tribal Christian and one of the rock pioneers of the state, said she had to fight against officialdom to get her singing career on track. "There are two parallel governments in Manipur — the Indian government and the rebels. We are caught in between," said the 30-year-old, whose talent and blonde good looks have made her a local star, defying cultural barriers. "There are a lot of restrictions on women here. People don't appreciate women stepping out of their homes and mingling with the opposite sex. Singing rock is not considered lady-like," she said. "It is not safe for women to hang around alone after dusk." Manipur's situation is complicated by the fact that myriad rebel groups are largely formed on tribal or ethnic lines with rival agendas that regularly erupt into bloody internecine disputes.
Gonson, who was brought up by her single mother and writes and composes her own songs in English, says she refuses to fear anyone. "I can stop them but they can't stop me." She began by performing for close friends and family. Word soon spread and she was invited by schools and colleges to perform for their functions. Then, in 2006, she was asked by rebels to give a performance at their jungle hideout. "I was scared at first but decided to go. I took my mom with me. The rebels loved my performances, they danced with guns in their hands and kept asking for more.
"No rebel group has tried to harm me ever since," said Gonson, adding that she also performs for soldiers in army barracks. "I understand the feelings of both sides," she said. "I pray for eternal peace for my motherland."