India's rural innovators have proved that ordinary people are indeed capable of extraordinary inventions. Despite many constraints -- lack of education and severe cash crunch -- most of them have succeeded in using technology cost-effectively to build ingenious products.
A washing-cum-exercise machine, hand operated water lifting device, portable smokeless stove, automatic food making machine, solar mosquito killer, shock proof converter, a floating toilet soap are few of the products on display at the exhibition of grassroots innovations at the Rashtrapati Bhavan. President Pratibha Patil inaugurated the three-day exhibition at Rashtrapati Bhavan on Monday.
The exhibition has been hosted at Rashtrapati Bhavan since 2010, as the President wished to give grassroots innovators, a platform to showcase their amazing innovations. The exhibition is organised by the National Innovation Foundation (NIF), a grant-in-aid institute under the Department of Science and Technology (DST) set up in February 2000. The mission of NIF is to make India a global leader in sustainable technologies by building upon genius of grassroots technological innovators and traditional knowledge holders.

S
akthimainthan built his hand operated water pump in response to a dearth of available pumps that could be afforded by small farmers.
He built five prototypes over a period of fifteen years before finally perfecting his design.
The resulting water-lifting device is operated by the continuously rotating a handle. It is simple in design and has a high discharge at low cost compared to the motorized pumps and conventional hand pumps.
The pump has discharge of 20,000 lph at 0.75 m head. The unit has also been tested by TNAU, Coimbatore and improved by CMERI Durgapur. It is useful device for drainage as well.

B

hise has fixed a rod with a blade at the end, to an assembly consisting of only the front wheel and the handle of a bicycle.

He has named the assembly as 'Krishiraja', and claims it to be extremely efficient in removing weeds from hard land.

It is very useful device for ploughing/inter culture operation in very small farm plots, gardens and kitchen gardens. One can cover 0.08 hectare in one hour.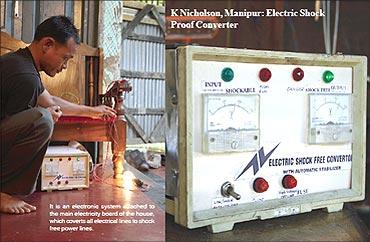 N
icholson has developed an innovative device which converts all electrical lines into shock-free power lines. This is a very useful device for every household/ commercial establishment. The device can be installed just after the energy meter so that each and every connection in the building establishment gets connected to the device and becomes shock.The innovator makes different variants based on application and user's requirements.

Vincent observed many people taking bath in rivers and ponds loosing their soaps, which often sink in the water.
He conducted experiments in his soap manufacturing unit for about 14 years to develop this unique process of manufacturing soap that floats in water. The soap has a density of 0.878, TFM (Total Fatty Matter) as 73 per cent, foaming stability as 0.1 cm and foaming power as 0.2 cm.
Jina Khumujam (Herbal Soap)
Manipur
This is a soap made using milk, honey, oil, caustic soda, and soap-nut. Local herbs/plants having high medicinal value and health benefits are also been added.

C

V Raju has revived the dying art of making wooden toys among the craft community in Etikopakka.

After 1910 the craftsmen had resorted to titanium oxide bonded synthetic colors for making wooden toys.

Raju's key strategy has been to strengthen the traditional local knowledge of making vegetative dyes, develop new tools, techniques and methods for increasing shelf life of the dyes and generate new uses.

Raju's experiments have resulted in many new toys imparted with vegetable dyes for which market is slowly emerging in India and abroad.

The toys of Etikoppaka imparted with vegetable dyes come in various shapes and forms ranging from toys to candle stands to vermilion boxes and bangles. Their enchanting designs, bright colors and earthly appeal are very attractive. Today, they are a part of the rural folk tradition.

T

his device makes use of the smell from the septic tank to attract the mosquitoes, which get trapped in the device.

Heat builds up inside the device as a result of direct sunlight exposure. The trapped mosquitoes, thus, get killed due to the accumulated heat.

He has commercialised his product, on a small scale and will love to have partners who will scale it up. The innovator has also developed house fly trap.