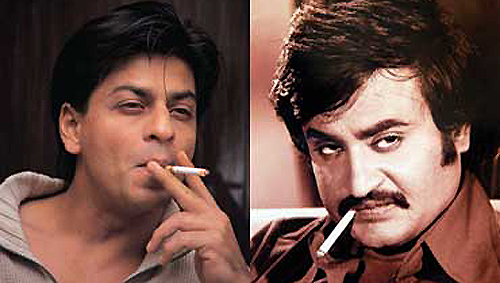 Every time Shah Rukh Khan lights up a cigarette on the silver screen or Rani Mukherji puffs away her woes as she did in No One Killed Jessica, there is a strong likelihood of an Indian teenager becoming a smoker.
This has been revealed in a new study published in Tobacco Control, an associated scientific publication of the British Medical Journal this week.
The chances of tobacco use initiation among schools kids who are highly exposed to smoking scenes in Bollywood movies are more than twice as compared with those with low exposure to such movies.
Tobacco use depends on several factors like presence of smokers in family, peer pressure and social environment, but smoking scenes in films appear to play a major role.
The study was conducted among 5,000 eighth and ninth graders in 12 government and private schools in Delhi.
Western studies have already established that exposure to smoking in Hollywood movies leads to increased risk of smoking among adolescents.
Preliminary research in India had suggested that tobacco marketing is associated with increased tobacco use, but this time impact of marketing strategies, such as promotion through Bollywood movies and distribution of tobacco- branded merchandise on youth, has been studied.
The film industry is opposed to a ban on smoking scenes in films on the grounds of creative freedom and has dragged the health ministry to court over this issue.
The ministry of information and broadcasting is batting for the film industry. A final word from the Supreme Court is awaited.
" Tobacco use by celebrities in movies is in violation of the Indian tobacco control law, which bans all forms of direct and indirect advertising," pointed out Dr Monika Arora, lead author of the study.
" Depiction of smoking and tobacco use in Indian films glamourises this behaviour for the young audience and they get an impression that smoking and tobacco use is a norm," she added.
The study also found that the tobacco industry was promoting various brands through merchandise products like caps, belts, T- shirts, posters, helmets and water bottles. Chewing tobacco products are also being promoted through kites. All this is in violation of the law.
It was found that students who owned or were willing to wear tobacco- branded merchandise had greater chances of becoming a tobacco users.
Almost 7 per cent of all adolescents in our study reported owning a tobacco promotional item, which suggests that tobacco companies are violating Section 5 of the Indian tobacco control law. This calls for stricter implementation of rules, researchers said.