Some facts about Julian Assange, founder of the WikiLeaks website, who was arrested by British police on Tuesday.
* Assange was born in Townsville, Australia, in July 1971, to parents who were involved in theatre and travelled frequently. Assange's mother runs a puppet theatre.
* In his teens, Assange gained a reputation as a sophisticated computer programmer.
* In 1995 he was arrested and pleaded guilty to hacking. He was fined, but avoided prison on condition he did not reoffend.
* In his late 20s, he went to Melbourne University to study mathematics and physics.
* Assange has no permanent home and was often seen carrying a rucksack, moving from city to city and staying with friends in countries from Iceland to Kenya.
* He is described by those he has worked with as highly intelligent, determined, intense and at times paranoid.
* He is known for being highly secretive. It has been reported that he carries several mobile phones and at one point believed he was being followed.
* Assange is wanted in Sweden for questioning about allegations of rape, sexual molestation and unlawful coercion, and an arrest warrant was received by London's Metropolitan Police. Authorities in Sweden, where Assange has spent much of his time, were seeking to have him detained to investigate the allegations by two Swedish women. He has denied any wrongdoing.
* Assange began WikiLeaks in 2006, creating a web-based "dead letter drop" for would-be leakers.
* His website has five full-time staff, several dozen active volunteers and 800 part-time volunteers. Assange has said he has received hundreds of documents and does not have enough resources to go through all of them.
* Assange said he thinks there is still a place for investigative journalism and hoped that WikiLeaks could complement traditional media.
* He said that WikiLeaks has never compromised a source.
* Assange is an avid user of social media networks such as Facebook and Twitter and is known for his sometimes sharply worded tweets. WikiLeaks' pages have some 300,000 to 400,000 followers.
Alleged sex offenses
On 20 August 2010, an investigation was opened against Assange in Sweden in connection with an allegation that he had raped a woman in Enköping on the weekend of 14 August after a seminar, and two days later had sexually harassed a second woman he had been staying with in Stockholm
Shortly after the investigation opened, however, chief prosecutor Eva Finné overruled the prosecutor on call the night the report was filed, withdrawing the warrant to arrest Assange and saying "I don't think there is reason to suspect that he has committed rape." He was still being investigated for harassment, which covers reckless conduct or inappropriate physical contact.
The second woman was a member of the Swedish Association of Christian Social Democrats, a Christian affiliate of the Swedish Social Democratic Party, who organized a seminar and news conference in Sweden for Assange. She was acting as Assange's spokeswoman and hosting him as a guest in her home during his stay in Sweden.
Assange said "the charges are without basis and their issue at this moment is deeply disturbing"; his supporters say he is the victim of a character assassination and smear campaign.
Assange denies any wrongdoing but admits to having had unprotected but consensual encounters with two women during a visit to Sweden in August.
He was questioned by police for an hour on 31 August, and on 1 September a senior Swedish prosecutor re-opened the investigation saying new information had come in. The women's lawyer, Claes Borgström, a Swedish politician, had earlier appealed against the decision not to proceed.
Assange has said that the accusation against him is a "set-up" arranged by the enemies of WikiLeaks.
In late October, Sweden denied Assange's application for a Swedish residency and work permit. Subsequently, on 4 November, Assange said that he is considering a formal request for political asylum in Switzerland as "a real possibility.
He would also move the WikiLeaks servers to Switzerland in order to "operate in safety."[115] However, according to the Swiss Refugee Council (Schweizerische Flüchtlingshilfe), his chances of obtaining asylum there are small. Assange would first need to claim protection from his native Australia, and then make a credible argument that Australia could not protect him. This would be extremely difficult, according to the organisation.
On 18 November, Stockholm District Court approved a request to detain Assange for questioning on suspicion of rape, sexual molestation, and unlawful coercion.
Director of Public Prosecutions Marianne Ny, who had reopened the investigation in September, said she had requested the warrant because, "so far, we have not been able to meet with him to accomplish the interrogation.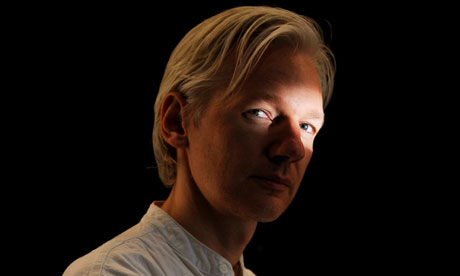 Assange's British legal counsel, Mark Stephens, disputed this, saying "we were willing to meet at the Swedish embassy or Scotland Yard or via video link" and that "all of these offers have been flatly refused by a prosecutor who is abusing her powers by insisting that he return to Sweden at his own expense to be subjected to another media circus that she will orchestrate.
On 20 November, Sweden's National Criminal Police force issued an international arrest warrant for Assange via Interpol; an EU arrest warrant was issued through the Schengen Information System. "We made sure that all the police forces in the world would see it", a spokesman for the National Criminal Police said.
Stephens dismissed the charges,[issuing a statement in which he called the allegations "false and without basis" and said "even the substance of the allegations, as revealed to the press through unauthorized disclosures do not constitute what any advanced legal system considers to be rape."
On 18 November, Assange's Swedish lawyer, Björn Hurtig, stated that the evidence against Assange was "very meager. It's not enough to get him convicted for crime."
On 24 November 2010, Assange lost an appeal against his detention, and thus remains under arrest in absentia and under an arrest warrant. The Svea Court of Appeal rejected his appeal and upheld the decision to remand him by the Stockholm district court.In late November, Assange escalated the process by appealing to the Supreme Court of Sweden,but the Court refused to hear the appeal.
On 30 November 2010, Interpol issued a red notice against Assange on behalf of Sweden for questioning on allegations of "sex crimes."
Interpol's spokesman clarified, "if it wasn't for a request from Sweden, we would not have changed the status of his warrant." Initially the notice was marked "restricted" but made public only after Sweden said they should. British police rejected the arrest warrant. A spokeswoman for the Swedish National Police Board told the BBC that Britain's Serious Organised Crime Agency had requested a new order as the original one had listed only the maximum penalty for the most serious crime alleged, rather than for all of the crimes. Swedish prosecutor Marianne Ny admitted the procedural fault and immediately filed a new detention order.
Ny filed charges of rape, sexual molestation and unlawful coercion. Assange denies the charges, which his lawyer described as stemming from a "dispute over consensual but unprotected sex", which may constitute rape under the Swedish law. The coincidence of the Interpol notice and European Arrest Warrant on Assange with the United States diplomatic cables leak was subject of commentary by the media.Stephens, said "It is highly irregular and unusual for the Swedish authorities to issue a red notice in the teeth of the undisputed fact that Mr Assange has agreed to meet voluntarily to answer the prosecutor's questions" outside of Sweden.