the people of India are dying on its roads. While road deaths in many other big emerging markets have declined or stabilized in recent years, even as vehicle sales jumped, in India, fatalities are skyrocketing up 40 percent in five years to more than 118,000 in 2008, the last figure available.
A lethal brew of poor road planning, inadequate law enforcement, a surge in trucks and cars, and a flood of untrained drivers have made India the world's road death capital. As the country's fast-growing economy and huge population raise its importance on the world stage, the rising toll is a reminder that the government still struggles to keep its more than a billion people safe.
In China, by contrast, which has undergone an auto boom of its own, official figures for road deaths have been falling for much of the past decade, to 73,500 in 2008, as new highways segregate cars from pedestrians, tractors and other slow-moving traffic, and the government cracks down on drunken driving and other violations. Evidence of road accidents seems to be everywhere in urban India.
The truck crushed Akshay so completely that his father could identify his son only by his shirt. The truck also ran over a second man and drove away.
Reckless driving and the juxtaposition of pedestrians and fast-moving heavy vehicles is common. The expressway that runs southeast from Delhi to Greater Noida, a fast-growing satellite city, cuts through farmland interspersed with new industrial parks and shopping malls. Small settlements of huts piled with cow-dung patties fringe the road.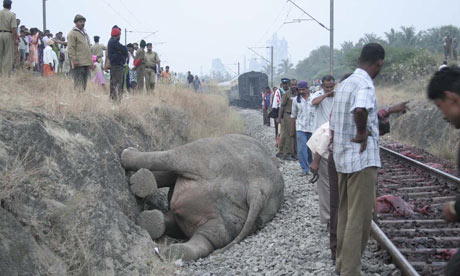 During a 40-minute ride on that highway, a tractor hauling gravel was seen driving the wrong way, a milk truck stopped in the road so its driver could urinate and motorists swerved to avoid a bicycle cart full of wooden tables in the fast lane. Drivers chatted on mobile phones as they steered stick-shift cars and wove across lanes. Side mirrors were often turned in or were nonexistent.
Shivani, a 15-year-old student, recently landed in St. Stephen's Hospital in Old Delhi with a fractured right leg after just such a highway dash.
"I don't know what happened," she said. "I was trying to cross the road." Her forehead and knuckles were blackened and scraped, and her eyes were glazed after a four-day coma.
She has to cross a busy highway during her one-kilometer walk to school. There are no crosswalks, no underpasses and no stoplights.
As cars increase, those who cannot afford them and continue to travel on foot, bicycle or rickshaw are more vulnerable. The government is building "economic growth on the dead bodies of the poor on these highways,"
Frustrated Indians often take matters into their own hands, forming impromptu mobs to beat up offending drivers. "Road rage" incidents, where drivers step out of their cars and get into physical altercations, have become common. Some people have begun campaigns to curb unsafe driving.
Safety "needs to be an important part of the driving culture, and that is still lacking," said Harman S. Sidhu, president of ArriveSafe, a road safety awareness group in Chandigarh. He started it after he was left paralyzed by a car accident in the Himalayas.
Last year during Raksha Bandhan, a festival celebrating the bond between brothers and sisters, ArriveSafe enlisted thousands of sisters to beg their brothers to drive carefully.
Mr. Singh, the father of Akshay, the boy killed by a truck in Bijnor, said he had spent days searching for the driver who ran over his son after the local police refused to help, finally taking the police in his own car to make the arrest. Megh Singh, the investigating police officer for the case, said in an interview that the police were eager to investigate but hampered because the station has only one jeep for its 18 to 20 inspectors.
The truck driver, now awaiting trial on charges of negligent death in Akshay's case and murder in a second man's case, has been released on bail. The truck, which appeared to be carrying an illegally heavy load, was returned to its owner without incurring any fees or fines.