They might have large fan followings in India and larger controversies but Indian babas have begun to enjoy a headier experience in neighbouring Nepal: incredible political clout.

The recent camp held by Indian yoga guru Ram Dev is a case in point. The saffron-clad bearded yoga teacher turned politician was feted by the President of Nepal, the prime minister of Nepal laid the foundation of his yoga ashram and Maoist chief Pushpa Kamal Dahal Prachanda attended his camp where he advocated a fusion of Maoism and spiritualism.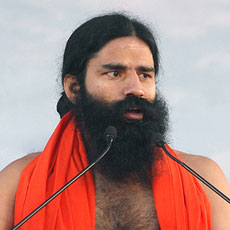 Now even before the ripples created by Ram Dev die down, Kripalu Maharaj, the man hailed by his followers as the greatest seer of his age, will be holding a two-day discourse at Bankali, the sprawling land close to the famed Pashupatinath temple, from April 10.

Last month, the 88-year-old maharaj faced a lot of negative publicity in India after a stampede in his Radha Madhav Society ashram in Uttar Pradesh killed at least 63 people. The disaster made the media resurrect at least two old allegations of rape levelled against the self-styled godman and he was reported as having gone underground. However, the furore in India has had no effect in Nepal, where Kripalu Maharaj owns a sprawling ashram in Bhaktapur city and his discourses are aired by Nepal's television channels in the early morning. During an earlier visit to Nepal, the deposed king, Gyanendra Bir Bikram Shah, went to meet the Indian preacher.

Ravi Shankar and his Art of Living also enjoy a large fan following in Nepal; so does Sai Baba, who has several ashrams with Nepal's late prime minister Girija Prasad Koirala and his daughter Sujata, the current deputy prime minister of Nepal, being his devotees. Bhagwan Rajneesh aka Osho has had a resurrection in Nepal with his Nepali disciples now taking the movement to the UK, Russia and other western countries.

Another controversial self-styled holy man, Asaram Bapu, whose ashram in Madhya Pradesh faced CID investigation after four children were found dead, was also in Nepal about two years ago to hold a discourse at the same Bankali grounds. At that time, only the Maoists had objected to his visit, citing the controversy surrounding him.

Earlier this year, another controversial seer with self-claimed magic powers, Chandraswami, visited Nepal to show support for the campaign to restore Hinduism as the state religion. Chandraswami was welcomed by a prominent industrialist who is also a member of parliament from the ruling Nepali Congress party, and had a meeting with Gyanendra.