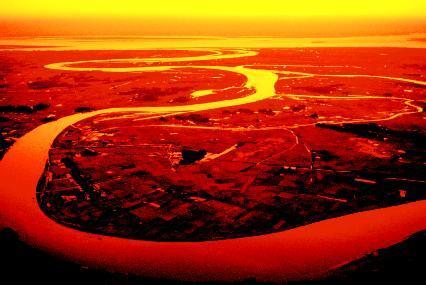 In a boost to the Ganga cleaning programme, the government has cleared projects worth Rs 1,394.11 crore for the states of Uttar Pradesh, Bihar, West Bengal and Uttarakhand.
While the Union government had allocated Rs 500 crore for the 2010-11 fiscal, the empowered steering committee committee of the National Ganga River Basin Authority (NGRBA) as part of the first phase of the project has provided Rs 800 crore to Uttar Pradesh, Rs 440 crore to Bihar, Rs 105 crore to West Bengal and Rs 45 crore to Uttarakhand.
The money will be spent by the states on projects that include development of sewer networks, sewage treatment plants and sewage pumping stations, electric crematoria, community toilets, development of river-fronts, resuscitation of canals, and public campaigns.
Union environment and forest minister Jairam Ramesh said, "In addition to these measures, we are negotiating a major loan of about US $1 billion with the World Bank for Ganga cleaning, which is progressing on track."
The first meeting of NGRBA was held on October 5, last year, with Prime Minsiter Manmohan Singh as chair at which it was decided that no untreated municipal sewage and industrial effluents would be allowed to flow into the Ganga by the year 2020.
In December 2009, the authority created the empowered steering committee with the environment and forests secretary as chair to sanction projects. The committee includes members representing other Union ministries, Central Pollution Control Board, Central Water Commission and the states concerned.
Ramesh said, "These measures signify the importance and urgency that we are placing on the river Ganga, which has such an important place in our culture, and which is so central to the livelihoods of millions of our people."
The water of ganga contains enormous amounts of Viruses called " BACTERIOPHAGE ".
these viruses just kill becteria and algae, which cause the water pollution and thus the water is pure long and long.
these viruses(bacteriophage) just infect the becteria and microbes and have no effect on humans, hence they are not dangerous.
The Himalaya has lots of unknown and very precious medicinal plants and herbs, the river ganga
flows from Himalayas thus it contains some amounts of those chemicals in the shrubs and plants sap.
this further purify and add to the quality of water in the holy river ganga.
" ganga is a holy pure river " In the early times the saints used to attach the names of useful things with the name of god, just to protect them.
like peepal with god vishnu.
ganga with heven.
sanjivani with god rama.
Many rural stretches are still OK. But in urban areas and even in Haridwar, pollution is severe and sometimes lethal. In all, 103 cities are believed to be dumping raw sewage directly into The River of Heaven.
Fish catches such as carp are dropping - a disaster for the fishing industry. Crops become poisoned because of contaminated groundwater - a disaster for farmers and consumers alike.
The toxicity of Ganga - and the entire Indian river system - is ghastly. The alarming levels of arsenic, cadmium, mercury, nickel and chromium VI can have a lethal impact on public health when they enter the food and water chain, according to the World Health Organization.
Cadmium is a potent kidney toxicant, and mercury is a potent neurological toxicant. Chromium VI is a known human carcinogen. Other metals, too, are potent sources of renal, neurological, skin diseases and blue baby syndrome.
And of course the Ganga is repository for human and animal excrement. In many places the river is hardly more than a sewer. When foreign aid agencies contemplate new projects, they might well consider financing millions of public eco-toilets and urinals. Meantime, city governments can cajole farmers into moving wallowing cattle far away from public bathing areas.
At Tulsi Ghat in Varanasi, where I live, our own laboratory has determined that fecal-coliform readings can be as high as 47,000 times the accepted Indian level for human bathing. Fecal coliform is a measurement of human and animal waste in water.
And yet an estimated 60,000 persons bathe daily along the great ghats of Varanasi and elsewhere along the 2,525 kilometer waterway. They usually know nothing about river pollution because the health authorities have not acted for some reason. Many pilgrims and daily bathers believe that because the river is a goddess, she cannot be contaminated, but instead has healing powers.
India is a country where, unusually, some 80% of her citizens depend on only 14 rivers. The Ganga alone supports nearly half the population, directly or indirectly. Everything from drinking water to agriculture and river rafting.
Around 70% of the population does not have access to treated water. They must rely on untreated river water or groundwater. Not surprisingly, the World Health Organization estimates that perhaps 1.5 million children in India die every year from waterborne diseases as direct or indirect result of river contamination or related befoulment. River contamination leaches into the groundwater system, affecting water supplies and agriculture.
But what's to account for our disregard for these condemned children? And for rivers like Ganga that kill them? Why, in fact, isn't Ganga clean - a river celebrated by Hindus for her purity. It is said that a single drop of Ganga water brushing your cheek can cleanse you of all sins. Now, it may also cause skin rash.
Back in 1985 the Government did launch the so-called Ganga Action Plan (GAP) in 29 Ganga Basin cities. It has failed in many instances because of over-reliance on electrical power supplies that often fail in northern India; problems of flooding and improper maintenance.
We can't always be certain how extensive GAP failures are, because many official statistics are kept under wraps. Only a parliamentary act would release them. But we do know that when river pollution statistics are classified, there must be a good (or bad) reason for that.But nobody can hide the deaths of children from waterborne diseases often occasioned by river pollution and particularly the Ganga.
At the end of the day, only the Central Government can prioritize a Ganga cleanup - and a cleanup of all rivers. Prioritization will only happen through public pressure. No great river in the world - be it the Thames, Rhine or Hudson - has ever been cleaned without public pressure removing the sandbags of political apathy.
As an international campaigner, I hope you will permit me to speak bluntly. The Central Government of India, despite tragic blunders, does know how to clean the Ganga. It knows which towns and industrial areas generate exactly how much sewage and effluents. It knows which technologies are available to treat wastewater. It knows where to get the financing (Japan and Sweden, for instance, want to help.) And it knows which industries are the culprits.
The government also knows that more than 300 million lost workdays annually costing $8.3 billion dollars are due to waterborne diseases affecting adults. And it knows that India's fresh water resources are likely to be exhausted by 2028 if present population trends persist. As things stand, nearly half of all Indians have to make do with palmfuls of muddied water while the other half guzzle aerated beverages.
Cleaning the Ganga is not on the political agenda of any party in India. Only public pressure can put it there. Only you and I can do that. And then something will happen.