ULJIN COUNTY, North Gyeongsang Province - If winter this year has felt too long and too cold for you to be out and about, then well done.
You did a huge favor for those who refuse to let something as trivial as cold weather keep them cocooned at home.
By staying in, you have cleared the roads for weekend warriors of the usual bumper to bumper madness on expressways all over.
And if you just so happen to be a champion of shellfish, the locals this side of the southeastern coast say this time of year between February and March is the perfect season to shell out some crazy won for the fattest, most succulent steamed king crabs.
The county, along with Yeongdeok, is famous for the tasty oversized crustaceans during this time of year - a godsend for gluttons all over.
But it's not just the crab that attracts heavy traffic to Uljin.
Another reason the east coast is so popular with weekend travelers is because it allows people to enjoy both the sea and the mountains.
Word to the wise, however - a trip to this crab paradise will consume much of your time as the county of Uljin lies along the southeastern coast approximately 329 kilometers from the capital - about a five-hour drive.
So it is advised that you get things off and running early in the morning and commit at the least, two days to get a proper tour of the area.
Once there, you'll find the scenic road along the edge of the coast to be one of - if not the best - courses to drive in the country.
Although you can go anytime between this month and March, the perfect time to go will be from Feb. 26-28 when the county hosts their annual Uljin Crab International Festival at the port of Hupo.
This is the 11th year the Uljin port has been host to the popular crab extravaganza.
There, visitors can check out everything from how the crabs are brought into the port to the sight of thousands of them laid out on the ground with their legs sprawled out. It is quite the amusing sight.
According to one fisherman, an estimated 195 tons of king crab worth about 2.8 billion won were brought in to be sold on the daily auction block last month alone.
Each year, the festival offers visitors and their families various hands-on activities such as making crabmeat gimbap, tasting free steamed crab, tug-of-war for children and a chance to participate in or simply just watch a king crab cookout competition.
Of the host of activities available for all visitors, the most noteworthy would most definitely be the chance to hop on one of the fishing vessels free-of-charge and watch how skilled fishermen snag the crabs or partake in a crab-eating competition.
Before you plan your trip, knowing a few facts about these crabs might do you some good.
For one, in Korean they're called daege - but contrary to what many believe, their name didn't come from their size.
Dae, which means "large" in Korean, actually originated from its legs which many likened its resemblance to bamboo shoots.
Bamboo is also called "dae" in Korean.
The thing one should be keen on knowing is how to distinguish which ones are the tastiest and meatiest.
Normally the crabs are categorized and valued depending on size, density of its exoskeleton and color - gold, silver, pink or red.
The ones that are golden and fully mature are considered the cream of the crop with only two or three snagged each day.
On average, they go for more than 100,000 won for a single catch off the auction block, which means they will be sold at twice the original price once it gets to someone's table at a crab shack - the price is inflated three-fold if it's a restaurant in Seoul, according to one fisherman at Hupo Port.
Average prices of premium grade king crab at coastal seafood restaurants around the county range from 10,000 won to as much as 40,000 won - far cheaper and better in quality than posh crab shacks around Seoul.
The scene of the auction block is something visitors simply must witness first hand.
It is one that's relentlessly paced where both auctioneer and buyer huddle up into a large circle going through lightning-quick transactions of large clusters of crab within minutes before storming off to the next row of crabs waiting to be purchased.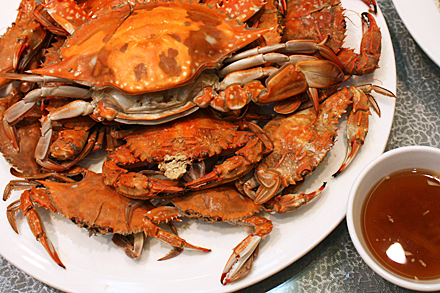 It's hard enough to keep up with them but these hard working people of the sea retrieve information and write their bid amount onto small chalk slates all at the same time while the auctioneer speedily shouts away.
The merchandise on display is taken away almost as fast as it is brought in from the hundreds of fishing vessels that line the edge of the port.
However, not all of the early morning catch can be winners, so the undesirables called "mul-ge," or young soft-shelled crabs that have yet to mature, are sold cheap to merchants who then sell them off to whoever is a big enough sucker to buy them.
From the stories being told, most of them end up being sold online or bought by shady seafood restaurateurs in Seoul who sell them at a premium.
This is why one local buyer said, "that's why crab in Seoul can't be compared to crabs served to people in restaurants around Uljin county. Seoulites are served mul-ge."
Perhaps the man was blowing smoke, but one thing for certain is that these sub-par crabs are being bought by someone, and they ain't the local restaurateurs.
Every now and then a man would loudly announce through a microphone telling buyers not to purchase them. It was a futile attempt, as they were sold almost as fast as the legitimate ones.
About 23 kilometers east is Wangdolcho - an area known as the commercial center for fisheries around the port of Hupo.
King crabs caught in the area are mostly auctioned off at the Port of Jukbyeon, a neighboring port north of Uljin County. Other profitable seafood in addition to king crabs there are the usual suspects of staple Korean dining tables which include the giant octopus, mackerel, squid and sardines.
In early morning auction blocks in Jukbyeon, visitors, if they can get up early enough at the crack of dawn, can check out giant octopuses auctioned off there.
If you're not an early bird type of person, no need to fret, because 9 a.m. is still a good time to catch all of the auction action.
After a long and arduous mission going all over the ports that Uljin has to offer, there's simply no better way to unwind and prepare for the long drive back home than taking a dip at a hot springs resort.
There are two main resorts visitors usually make sure to stop by when they visit Uljin.
South of the county lies the Baegam Spa Resort and up north is the Duckku Spa Resort.
The Baegam Spa Resort is popular for its hot springs water that is reportedly rich in sulfur and germanium with temperatures that average between 48 to 53 degrees while the Duckku Spa Resort is situated in the idyllic Eungbong Mountain 999 meters above sea level where its water averages 43 degrees in temperature.