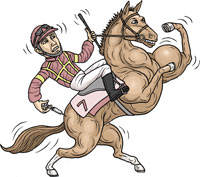 Dubai's ruler was given a six-month ban from long-distance horse racing after his horse tested positive for banned substances, the
International Equestrian Federation said.
Sheikh Mohammed bin Rashid al-Maktoum's horse Tahhan ran in two endurance races in January and February and "in both events, the horse was ridden by Sheikh Mohammed ... who is the person responsible", said FEI in a statement on its website. He was also fined $4,250.
Most endurance races are up to 160 km long. In the statement, the Dubai ruler, who is also the prime minister of the United Arab Emirates, said he had no knowledge of any illegal substances being used. He can appeal. Trainer Abdullah bin Huzaim was also fined and banned for a year after admitting to doping the horses.