How to become a Wedding Consultant?
Western Concept—
•          Why is it a big industry there?
–        Couples plan and pay for their own wedding
–        Low family involvement
–        Brides marrying away from hometown
–        Brides-to-be are often simply too busy juggling the demands of their professional and personal lives to oversee the wedding planning
US alone has close to 10,000 wedding consultants

 

according to Association of Bridal Consultants (ABC).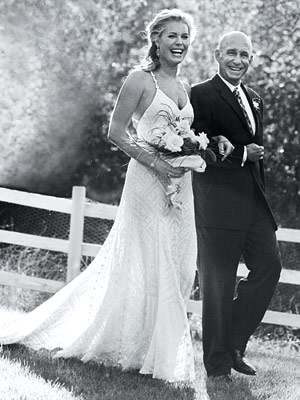 Wedding Consulting in India
•          Potential?
–        Wedding budgets are 'large'
–        Brides and grooms are getting involved wedding related decisions
–        Higher disposable incomes – need to do something different and memorable
–        Bollywood serves as an inspiration for designer weddings
•          Plan a wedding from A to Z.
–        Ensure that the bride's vision of the wedding day becomes reality, from securing the perfect ceremony and reception locations, to booking vendors who deliver, to making sure everything and everyone is at the right place at the right time on the big day.
•          Negotiate with wedding vendors.
–        Wedding consultants are also skilled negotiators. Because they know the wedding industry well, vendors are less likely to dupe them into higher prices or sales gimmicks.
•          Act as a go-between with vendors and family members.
–        Wedding consultants can be masterful coordinators, peacemakers, and etiquette experts. They can communicate with various vendors on family's behalf and spare clients the stress of dealing with conflicts or misunderstandings.
•          Wedding Day Coordination
–        Wedding consultant can take care of all the details on the wedding day so that the family can sit back and enjoy the celebrations.
•          Some other responsibilities of wedding consultants:
–        Organizing entertainers like DJs, singers, and folk troupes required for various functions
–        Printing and mailing of Invitations
–        Arranging for wedding souvenirs
–        Trousseau planning and Gift wrapping
–        Car rentals
–        Accommodation for the guests
So what does it take to be a successful wedding consultant
YOU NEED TO BE PEOPLE PERSON.
•          You'll be dealing constantly with weepy brides, demanding mothers, cranky suppliers and others who will vie for your attention.
•          You'll be bargaining with vendors, overseeing the activities of hordes of hired helpers, and mingling with the guests at wedding receptions.
•          So it helps if you really love working with people and have an upbeat, positive outlook to help you weather the inevitable problems that arise when you're coordinating countless details.
A STRONG BUSINESS BACKGROUND.
•          You'll be coordinating budgets and overseeing finances for your clients.
•          Plus you'll be taking care of the details of running your own business, which will include taxes, billing and other financial matters.
•          You may even have to deal with personnel administration at some point in your career.
•          So business experience (or barring that, at least a good head for numbers and details) is very important.
Target Market
Market size:
10 million weddings every year
•          which means there should be plenty of people who will need your services, right?
•          In theory, yes. But you'll be much more successful if you tailor your services to a specific group within that market.
•          What are the characteristics of the people that are likely to use your services or products.
•          Are they likely to be upper middle income or super-rich?
•          Are they NRI's or locals?
•          Are Gujarati families as likely to use your services as Punjabi families?
•          Or are Telegu families as likely to use your services as Keralite / Tamilian families?
•          Who is likely to foot the bills for those dream weddings? Mom and Dad, or the bride and groom.
Startup Cost
•          There aren't many viable businesses around that eager entrepreneurs can jump into, backed by just a modest amount of capital, a vision and lots of enthusiasm. Fortunately, wedding consulting is one of them.
•          Because most wedding consultant businesses begin as homebased businesses, start-up costs are relatively low.
–        You don't need to rent an office. You may be able to use equipment you already own, such as a computer or a cellphone.
–        A word of warning: Don't even think about investing in retail merchandise or props that can be used at weddings until you've been in business for a while. You don't need the extra financial burden when you start out.
A Day in the Life of a Wedding Consultant
•          There are certain tasks common to all wedding consultants. Among them are
–        day-to-day business administration,
–        bridal consultations,
–        wedding-day organization,
–        vendor and service coordination.
•          Day-to-Day Administration
–        To begin with, you'll spend lots of time on the telephone every day, fielding inquiries from interested brides, following up on vendor leads and checking on the status of wedding preparations.
–        If you employ contract or temporary help during weddings, you'll have to meet with them on a regular basis to provide instructions and go over details.
–        Then there's the paperwork. You'll also have to keep meticulous records on the choices your brides make, the status of wedding day plans and other details.
•          Consultations
–        To determine what a bride wants and how much she wants to turn over to you, you'll have to schedule consultations.
–        Initially, it is simply an introductory meeting . . . to determine if you are a good match for each other.
–        If the bride decides to hand over the wedding to you, the consultation meetings will be focussed on going over the plans.
–        There are a number of brides who don't need a wedding consultant but are just looking for ideas and advice. You can charge these brides on a per hour basis for spending time with them.
•          The Wedding Day
–        Wedding consultants act as the bride's advocate on the happy day, making sure everthing runs smoothly on time, and so on.
–        Consultants often hire extra help on a contract basis to assist with wedding day activities.
•          Working with Vendors
–        One of the things that will make you invaluable to customers is your knowledge of the bridal industry. As a consultant, you're expected to be the font from which all knowledge about the industry flows. That means knowing things like which wedding gown styles or decorating schemes are in vogue and which are passé, or whether it's inspired or gauche to use silk flowers in the bride's bouquet.
•          Who Will Your Major Suppliers Be?
–        Reception halls and banquet sites
–        Caterers
–        Florists & decorators
–        Entertainers and DJs
–        Photographers and videographers
–        Hotels & Car Rentals
–        Mehndiwalis
A Day in the Life of a Wedding Consultant
•          How to develop Vendor Expertise?
–        Your clients will count on you to recommend reliable suppliers that offer the best quality and value for their money. So it's your job to research bridal service providers in your target market to find the best possible sources for the products or services you'll require.
•          The easiest way to identify potential service providers is by asking friends and business acquaintances for recommendations.
•          Identify as many potential sources as possible so you'll have several to choose from when the time comes to make a recommendation to the bride.
•          Keep in mind, too, that you should locate vendors in the low, medium and high price ranges to accommodate all budgets.
•          Then once you've compiled your list of sources, pick up the phone and make appointments to see their facilities and products in person.
Marketing your Service
•          Before you start spending on advertising of any kind, it's wise to create a basic marketing plan.
•          Your marketing plan can be a part of the business plan you've already written.
–        It should describe your target market and the competitive environment you're operating in (this is where your market research comes in) as well as address how you're going to make your customers aware of your business.
–        Information relating to pricing, industry trends and advertising also has a place in your marketing plan.
•          Advertising options for wedding consultants include
–        Yellow Pages advertising,
–        magazine ads,
–        brochures,
–        Bridal shows
–        PR
–        word-of-mouth
•          A Few tips for your Marketing Plan
–        It's best to advertise only in consumer publications that cater specifically to brides since at any given time, only 2 percent of the population is considering marriage.
–        A brochure is a great tool for reaching brides-to-be in the places they're likely to frequent, like bridal boutiques, jewellerrs etc.
–        Whoever said there's no such thing as a free lunch must have overlooked word-of-mouth (WOM) advertising.
–        Some wedding consultants call their clients a few weeks after the wedding to get feedback and verify their satisfaction. During that conversation, you can also get a referral or two from the satisfied bride, which you can turn then into a WOM opportunity by using her name when you call the person to whom she referred you.
–        Take part in bridal shows in your city which are hunting grounds for brides. You are likely to generate good leads on the spot.
Wedding Consultants- Who's who of the business
Top Wedding Consultants in India
•          They have made a place for themselves in the wedding market
•          From lavish dos to theme weddings and simple ceremonies, they aim to fulfil the client's every whim and fancy.
•          Companies like Sound of Music, Partylines, Ferns and Petals etc offer hassle- free pre-designed theme weddings be it Japanese, Mexican, Rajasthan, or Gujarati, and on-order weddings to make the special day even more memorable.
Sound of Music-
•          Meher Sarid's entertainment company Sound of Music has been in the business of fashioning fantasy weddings and they organise over 50 marriage extravaganzas during peak wedding season.
•          The USP of Sound of Music is lavish themes and concepts. Some of the themes executed by Sound of Music include the 'restaurant' theme with three different cuisine restaurants set up with befitting decor, props and entertainment.
•          Sound of Music charges 15 per cent of the total expenditure of the evening and the one-stop shop offers every conceivable wedding product and service: flying in Russian ballet and Egyptian belly dancers, chefs from Tokyo or even arranging a honeymoon cruise in the Caribbean.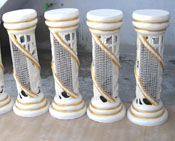 Ferns 'n' Petals
•          Vikas Gutgutia's company Ferns 'n' Petals offers a variety of options and themes which range from being the low-budgeted purely floral to havelis, Mughal palaces that are draped with ethnic fabrics like zardosi, brocade or jamawar for relaxed budgets.
•          It not only handles the décor but also invitations, menu cards, gift packing, trousseau packing and even co-ordinated clothing for the stewards and music and entertainment personnel to match with the theme.
Mansa=
•          For those who do not want the executed feel, there is Mansa which works on arranging a special wedding with the personal touch. Mansa is run by Gurlein Manchanda and Ivan Rodrigues and they have organised weddings for prominent business families like the Daburs, Popleys, Mittals, Hindujas, Singhanias and Poddars.
The duo conceptualise the entire theme, plan the layout in minute detail and carry out each part of the project with clockwork precision. Nothing is too small for their planning. The crockery, the cutlery, the napkins, the chairs and tables, the drapes, the stage and the decorations along the aisles are all covered in their plan
apart from the main constructions of the venue and the styling
Wizcraft
•          Wizcraft is well known for its theme events which are much sought after by leading diamond merchants and prominent industrialists.
•          Wizcraft has a special unit dedicated to weddings, and it specialises in pre-wedding parties, especially theme-based ones. Space Age, Wild West evening, Red Indians, Arabian Nights complete with belly dancers have been executed by it.
•          Besides this, it offers a range of services — from administrative tasks like airport pick-ups and dishing super efficient hospitality for the groom's party to managing creative tasks like the décor and entertainment for the evenings.
•          And when there's word about a wedding at a super-rich home, the Wizcraft team approaches the family with a slick computer presentation.
•          Wizcraft has implemented a multitude of themes. Hold your breath, it has even staged a war theme at one wedding function: a pre-wedding party at the Mumbai Turf Club with bunkers and tents all over. The guests were dressed thematically and the stunt men were all over. Firebombs and smoke bombs added to the excitement.
wedding candle
wedding bed
--
http://namesake-expert.blogspot.com/
http://namesakeb2b.blogspot.com/